Foreword to E.T. Paull Pages
by

Wayland Bunnell
On January 20, 1857, Henry Washington Paull, then 41 years of age, and Margaret C. Thornburg were married. They were the parents of Edward Taylor Paull. Henry was listed in the 1850 census of Berkeley County, Virginia as a miller for the McClary family. E. T. Paull, their first child, was born in Gerrardstown on February 16, 1858. Two other children followed; Laura May, born May 23, 1859, and Mary C., born December 27, 1861.
In the 1860 county census, Henry is listed as a farmer, but by 1870, he is listed as a boarding house keeper in Martinsburg. The Civil War had come and gone, but undoubtedly not without its effect on the Paull family.
To step back a few years in the area's history, on July 11, 1861, General George B. McClellan defeated the Confederate troops at Rich Mountain, paving the way for surrounding counties to become the state of West Virginia. Indeed, Martinsburg changed hands some eighteen times during the course of the Civil War. I've always wondered if the conflict necessitated the move of the Paull family from rural Gerrardstown to the larger town of Martinsburg, and if Henry's occupation as a boarding house keeper were related to the war. In any event, Henry apparently prospered, as court house records show that he owned key downtown parcels of land and apparently owned and lived in a house on Martin Street.
E. T. Paull was quite young during the the Civil War, from three to seven years, and I've no doubt that the intense activity in the area must have made an impression on him, as so much of the material he eventually wrote and published had to do with the war and patriotic themes.
So far, the earliest record of E. T. Paull, other than birth records, is an ad in the Martinsburg Statesman, a local paper. In the March 21, 1878 issue, Paull, Then 20, is general manager of the music store on King Street near the current Martinsburg post office, where he sold pianos and organs, and was an agent for New England Organs. From other sources, there was mention that Laura, his sister, sang in the local choir, so music must have been part of his family life as well. Edward undoubtedly sold sheet music in the store.
Though the courthouse deeds showed that Henry prospered, apparently Edward did not as in 1885 and 1886, Henry sold some of his downtown property to pay his son's accumulated debts of $2750 - no small sum at that time.
Until August of this year, the next record of E.T. Paull was at the time of Henry's death, and E.T. was living in Richmond. But due to the eagle eye of a fellow dealer, "Chase Bros. Grand Triumphal March", copyrighted 1888 arrived at my door. It has a music store stamp for Sanders and Stayman, with E.T. Paull imprinted as general manager! To my knowledge, this is the first pre-"Chariot Race" piece of E.T. Paull memorabilia to surface outside the public records. It's not a great stretch of the imagination to deduce that after Henry bailed out E.T. in Martinsburg, Edward moved to Richmond, and greener pastures. Probably Paull's function at Sanders and Stayman was similar to his work in Martinsburg.
1893 and 1894 were full years for E.T. Both his father and mother died, his daughter was born, and his first march, "The Chariot Race or Ben Hur March" was an instant success. Most likely, the idea for this piece came from the Ben Hur story made popular by General Lew Wallace's book. Early editions of the march, which was dedicated to Wallace, bear a reproduction of a letter from him to Edward, congratulating him on the beauty and success of the piece. This letter appeared in editions up until 1897.
On this first march, the publisher is listed as Richmond Music Co. Richmond, Va. It is not currently known if the Richmond Music Company was another music store like Sanders and Stayman, or simply a title which Paull invented for the purposes of copyright registration. Only the first four copyrights were taken out in the name of the Richmond Music Co.:
1. "The Chariot Race or Ben Hur March"
2. "The Old Man's Story"
3. "The Stranger's Story"
4. "The Della Fox Little Trooper March and Two Step"
Interestingly enough, No.'s 2 and 3 appear to be the same piece. In the Library of Congress, there is a copy of "The Old Man's Story", printed in rust and green. The title is overprinted in bronze ink with " The Stranger's Story" printed in black over that. And though " The Della Fox Little Trooper March" is registered under the Richmond Music Co., it was printed by E.T. Paull Music Company, also of Richmond. Paull published only 15 months before he put his own name on the publishing business.
Both "Chariot Race" and "The Della Fox" are indicative of a trend in Paull's publishing career. As writers tend to write best when they write what they know, Paull had a strong tendency to publish what he knew. Though he did take full advantage of the musical styles and demands of the time, as did any sizable publisher, he as often as not published material about specific people or events. I've wondered how he came to commemorate a stage performer. Did he make a trip to New York and see her in one of her early stage performances there? Or, perhaps, did she tour to Richmond. Anyway, the "mite of cheer" from France was depicted in full costume, and "The Della Fox Little Trooper March" is one of his most striking covers.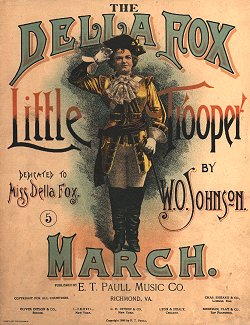 Even when her career had a brief resurgence around 1904, he had another edition of the March printed, which carries the 28th St. address.

March 14, 1896 was the last date of the last copyright for Richmond. June 29, 1896, the copyright date for the "Charge of the Light Brigade", was the first one registered in New York. Assuming one had a viable address to copyright, and given Paull's honest reputation, he must have moved to New York between March and June of 1896.

With the immense success of three of his early pieces, "The Chariot Race', "The Stranger's Story", and "Charge of the light Brigade", Edward Taylor Paull embarked on one of the most colorful publishing careers of the early 20th century music publishing industry. Though he personally wrote only a few compositions each year, his early career was marked by a large array of music by other composers. Of the 207 identified song sheets he published, 142 (nearly 75%) were copyrighted before 1902. In most all cases, he owned the copyright, and published works by such composers as Charles Shackford, Charles Jerome Wilson, Ion Arnold, Harry J. Lincoln, and Sterling and Von Tilzer to name a few.

He not only sold his own copyrighted songs and marches, but also acted as sole selling agent for other publishers, most notably for Alb. H. Fitz. Fitz published a number of sentimental and novelty songs just before the turn of the century. The address for Alb. Fitz was 20 E. 17th St., as was E.T. Paull's, and the songs I have by Fitz for which Paull served as the selling agent are all copyrighted in 1896 and 1897, the years that Paull was at the mentioned address.

Edward was also interested in classical and parlor music. He advertised in The Etude, a music periodical published by Theodore Presser of Philadelphia. The Etude enjoyed a nation-wide distribution and probably explains why Paull's songs and marches appear with similar frequency all over the country. "The Chariot Race" appears to be as common in North Dakota as it is in New York! His earliest ad in the Etude seems to be in the first quarter of 1889, and I've seen them as late as 1909. In 1904 - 1906, he published about 100 classical transcriptions called "The Edition Paull". These were issued with construction paper-like covers, with (usually) an art nouveau design, and were arranged by a number of musicians for different levels of difficulty in piano study. There were six grades or levels.

Paull also published four-hand arrangements for his marches, brass and marching band orchestrations, simplified arrangements for piano. banjo, guitar, and mandolin arrangements and even piano rolls. And an early catalogue has come my way that lists hundreds of songs in the public domain, which he also marketed.

After 1902, his publishing career slowed down a bit, and he only published two and occasionally three pieces per year, and sometimes only one. Business must have been quite active, with the catalogue of material he already had, to cut back on publishing so far. He did apparently, travel to Germany a couple of times before the first World War, once in 1900, again in 1910. He spoke fluent German, and addressed an assembly in Germany in that language, and was well received. He also met the Crown Prince of Germany, and I believe he may have met Kaiser Wilhem II.

While Edward had regularly issued different covers for some of his sheet music, he got serious about it just before and during the first world war. "The Ice Palace March", which was originally printed in 1898 to commemorate the state of his Mount Vernon home after a winter freeze, was subsequently issued around 1914 with a totally different cover. The new issue depicts a large castle built with ice blocks, and has people dancing inside. These ice "palaces" were popular in the northern states and in Canada, and were usually the central figures for large winter festivals. And, with the onset of World War I, Paull apparently realized that much of his Spanish-American inspired music could be re-issued. The song version of "America Forever! March" was released again with a black and white cover. Both march and song versions of "We'll Stand By The Flag" were reissued with a new Hoen lithograph of a soldier and sailor and the usual patriotic imagery. I have found a copy of "We'll stand By The Flag" with the Spanish American War cover printed as late as 1916. Apparently the pieces he published as new works were more popular because they are a lot easier to find.

Always a man of the times, just after the war, Edward recognized the growing silent movie industry. In 1919 he published "Armenian Maid" which has an inside dedication to Aurora Mardiganian, who he claims is the sole survivor of the Armenian massacre, and is currently appearing in the film "Auction of Souls".

Most song publishers released what are called professional copies or advance artist copies of their material prior to the sheet music. These editions, usually done on flimsy paper, were distributed free to musicians and stores, or anyone who might be in the position to promote the song. In the past few years, I have found professional copies for "Sheridan's Ride", "Legion of Victory", and "Custer's Last Charge". They all suggest use of the music for silent films. I also have a Thematic Cue Sheet, for the Paramount film "Womanhandled" which uses a section from "The Romany Rye" for part of the film score.

Edward sent off his last copyright on October 2, 1924, for "Spirit of the U.S.A.". He died six weeks later on November 27. Almost two years after his death, Maurice Richmond, a lifelong friend who bought the company, published the last E.T. Paull march, "Top of the World", and used the E.T. Paull logo for the last time.
---Wayland Bunell--- WTARRYTOWN@aol.com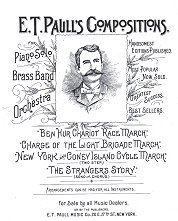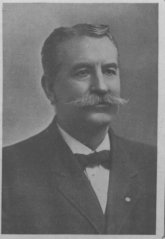 E.T. Paull 1858-1924
Home E.T. Paull Page 1 E.T. Paull page 2 E.T. Paull Page 3 E.T. Paull Page 4 E.T. Paull Page 5 Paull List