Galapagos
April 2005
The last trip that appears on our site was the trip to Italy, however, we have had several trips since then that would have been difficult to make into a web page, so I didn't go to the trouble. This Galapagos trip is also going to be a difficult web page to make, but I just have to do it because of all the wonderful people we got to know on this trip. The boat was very small with only 15 passengers, a crew of about 6, a naturalist, and a cruise director. The reason for the difficulty in creating a web page is that all the islands appear, at least in the photographs, to be mostly the same. They all have lava of one kind or another, mostly sparsely vegetated, rocky coast lines, and usually cinder cones or volcanos in the distance. So what you'll see on these pages will be mostly people doing the various activities people do, like swimming and hiking, plus some of the various animals, and perhaps a bird or two.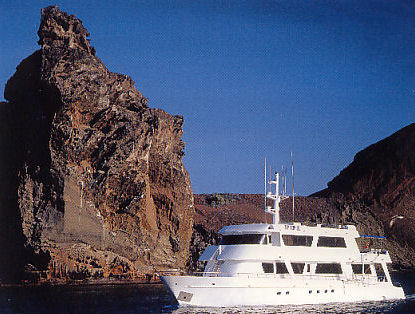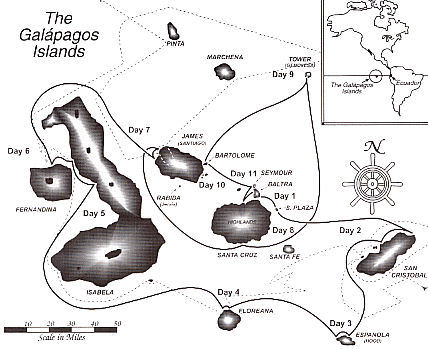 Quito, Equator was the beginning of our adventure where we stayed two nights and did a little shopping and a little exploring. Our plane left early for a short flight to Baltra to begin the first real day of the trip. There we were transferred to our boat, the Tip Top III, which would be our home for the next eleven days. A very delightful "yacht" where we had excellent food, air conditioning, plenty of fresh water for our twice a day showers, and the most wonderful crew imaginable. A perfect delight all around.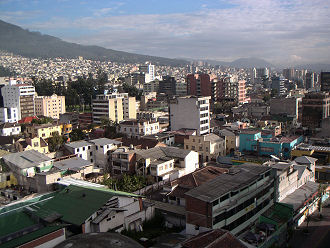 A view of Quito from our hotel window, and a native Ecuadorian lady doing handicrafts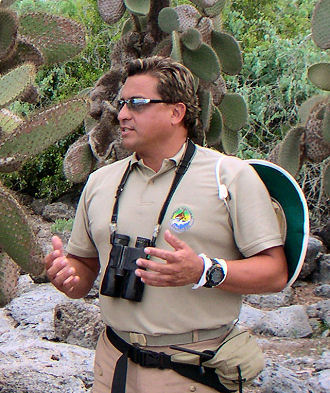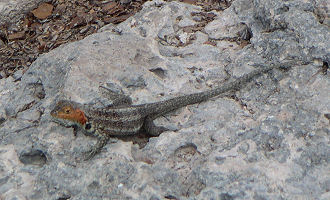 That afternoon we were off to our first Island, South Plaza, where we learned to cope with a lot of the things we were to face in the days ahead (wet and dry landings, where to walk, where not to walk, staying together, how to deal with the animals, etc. etc.). This is also where we met our resident naturalist, Samuel Quiroz, a wonderful intelligent man who was an absolute delight, even if he didn't know what a snipe hunt was. (inside joke). A lava lizard.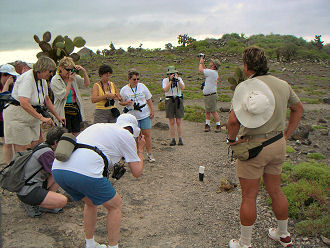 Prickly pear cactus, food for the land iguanas.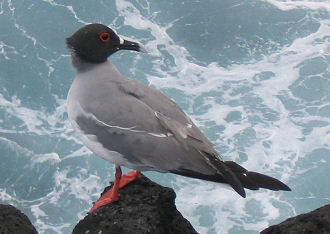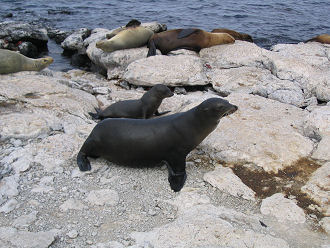 Swallow-tailed Gull, and the ever present, abundant, and playful sea lions.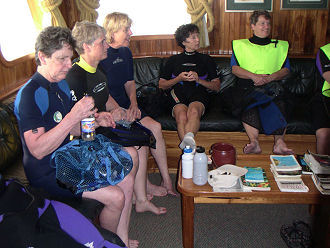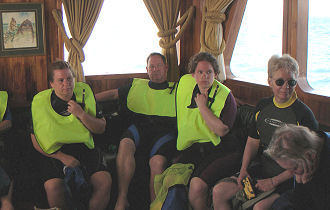 This was our conference room, lecture hall, and briefing room, where we had a TV and VCR to aide in some of the lectures. Just the right size for the 15 of us. We were being told the do's and don'ts about snorkeling this next morning. From Left to Right, Shirley R, Barbara, Kris, Penny, Diane, Christine, Don, Dana, Jan, and my Shirley.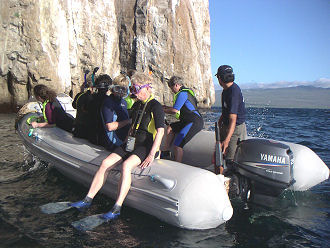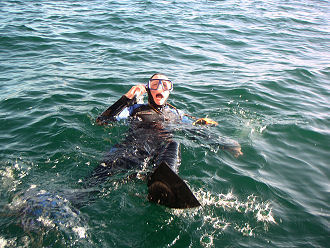 Snorkeling off the zodiak and Shirley having trouble with her snorkel.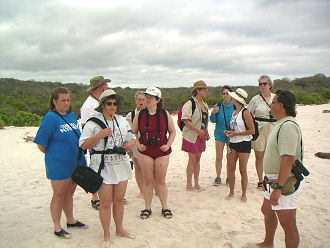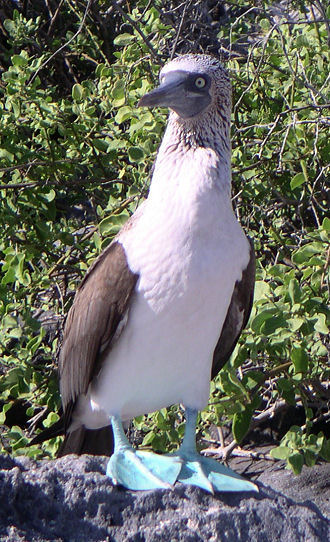 Blue-footed booby, can you believe those feet.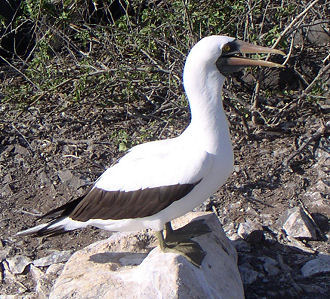 Shirley R. having a bit of fun with a Hood Mockingbird on the Island of Espanola (day 3) the bird was after her water.
A masked Booby.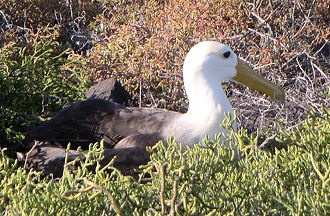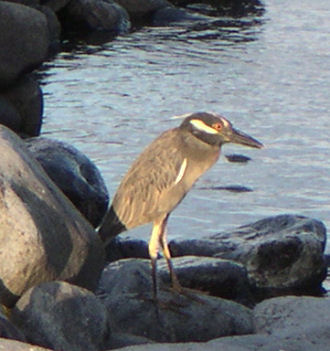 A waved Albatross nesting, we saw many of these birds that day (day 3) and many of them very close, so close we had to walk around them to continue our walk. A yellow crowned Night Heron.