Polar Bear Trip
Just a brief page showing the wonderful trip to Churchill on Hudson Bay to view the annual migration of the polar bears. I'm putting this page back on the website by request. I've lost the original text so you'll have to be content with what I can remember. The trip was in November of 2000 and as I remember we were out on the snow and ice for 4 days and 5 nights. We had 1 day in Churchill and a couple of days in Winnipeg.

Ths was our camp for the 4 days. The last 2 trailers on the left were the sleeping accommodations, about 15 people in each trailer. The next one in line was a meeting room and bar. The next was the kitchen and eating area, then the supply trailer on the far right.

This was our first get together to meet all the people before we went out to the camp, it was in Churchill. The bears seem to congregate around the trailers I can't remember why maybe they could smell the food. We, of course, were not allowed to feed them.

My bunk in the sleeping trailer. Our guide and naturalist

This is what it mostly looked like, a vast expanse of just snow and ice. Bear standing against our tundra buggy.
You could get within just a couple of feet of some of the bears, but you had to be real careful or you could lose a hand or worse. This one came up through a trap door in the back of our tundra buggy.



The inside of our tundra buggy which we would go out in either in the morning or the afternoon trading with the other half of our group. We were the point and shoot half. The other group was the professional photographers. It was warm in the buggy until a bear was sighted then all the windows would be opened and it suddenly would get real cold.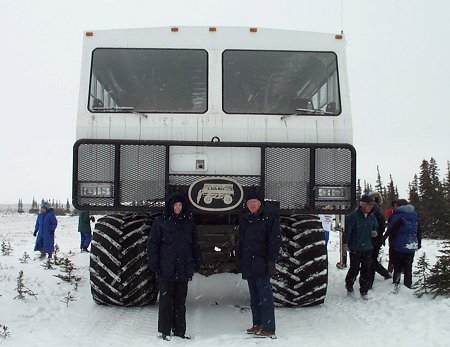 Our Tuntra Buggy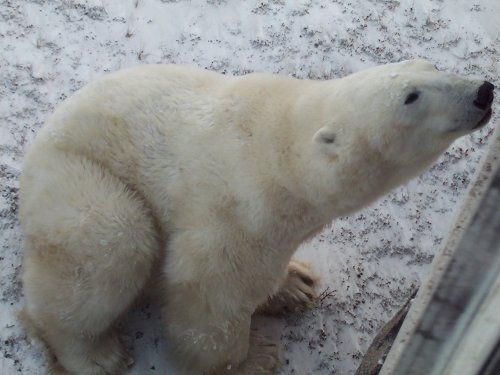 These bears were really hungry
An arctic fox and more bear pictures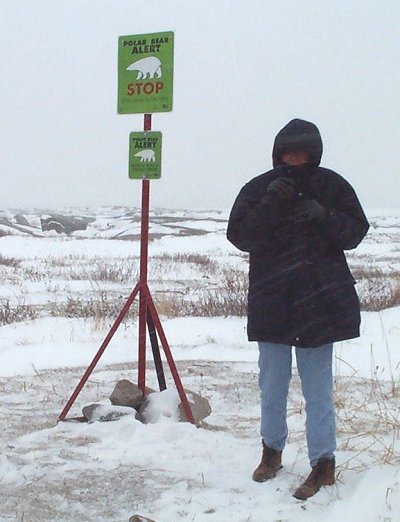 A sign in the town of Churchill.
That's it for the polar bear trip, I told you it would be just a brief recap.